Dear readers,
A few weeks ago, I asked people on my Instagram account if they had any questions for me and I decided to make a blog post of it. I did a few Q&A over the months on Instagram but of course, since it was in my story, it didn't stay longer than 24 hours – here people will be able to get to know me a little bit better whenever they want (well, if that can interrest them). I divided the Q&A in a few categories to make it more clear, so let's do it!
---
ABOUT MY READING
What are some of your favourite books, aside from Lady Midnight?
My two other favourite books are The Perks of Being a Wallflower by Stephen Chbosky because it brought me a lot when I was younger and Dracula by Bram Stoker, even though I don't know why. There's also Illusions Perdues by Honoré de Balzac, and I also don't know why. It's just an important book to me.
Why do you love reading so much?
Ah, the question.
Honestly, as cliché as it may sound, books have always been here for me. I do not come from a readers family so my parents couldn't understand why I wanted to buy new books every week, but I still loved it and it made me feel good everytime. Books were also with me when I woke up from the coma, when I broke my arm, when I tried to (tw// suicide) kill myself. They allowed me to escape the real world before becoming a simple source of joy. Books make me dream, laugh, cry, love. They taught me a lot, they made me a better person, they made me who I am. Honestly, I wouldn't be much if I didn't have them.
I guess that's why I love reading.
Why do you read in English?
As I speak English and want to live in the UK, I didn't see how it was relevant to read a translation when I could just read the original text! It also helps me to improve my English, of course, and English books are way cheaper than French ones (that's the real reason).
What is your favourite quote?
By far, my favourite quote is "We live and breathe words." by Cassandra Clare. It means a lot to me and I would have wanted it as a tattoo (but I can't due to medical reasons).
Do you prefer Julian Blackthorn or Emma Carstairs?
This is a very hard question, as I love them both for very different reasons.
I love Emma because she looks like me but still is very different. We both are blonde, have a scar on our arm, are bad at relationships and will kill anyone that come closer to the Blackthorns. But Emma is so much stronger, nicer and smarter than I am, and she inspires me every day to be better.
As for Julian, I obviously love him a lot but we do are very similar. Many people see him as demisexual, which I am, and reading about his feelings made me feel better about myself. He also is very protective when it comes to the people he loves, and some people see it as a scary thing, but I totally understand. He also is a very passionate person, which I am too..
Julian makes me feel okay about myself when Emma inspires me to be even better. I honestly can't choose between the both of them, as they both are a part of who I am.
Do you prefer Will Herondale or Jem Carstairs?
Why choose, to be honest?
If I have to, I would go with Jem Carstairs. I loved him way better than Will in the first book and even though I then learned to love them both equally, Jem has always been this pure and nice man who earned my respect and admiration.
Who is your favourite couple in the Shadowhunter world?
SPOILERS // DO NOT READ IF YOU HAVEN'T FINISHED READING THE SHADOWHUNTER CHRONICLES SERIES
I have many favourites. I love Simon and Izzy as they do not have as much problems as the others and are absolutely adorable. I love Julian and Emma, of course, but I also have a thing for Gideon and Sophie. I think we often forget about them but they are such a strong, healthy and adorable couple. Their love and respect for each other is so beautiful.
What do you do when you just don't feel like reading or are in a reading slump?
If I don't feel like reading, I do not force myself. There's no need to do so and I have so many other things to do that it's okay if I don't read one day in my life. However, if I am facing a reading slump, I try new books or simply let myself the time that I need to feel the envy to read again. I'll try to write a blog post about it, as I just got out of a reading slump.
If you could only read one book for the rest of your life, which one would it be?
That's an easy question: the answer is my favourite book, Lady Midnight. I already re-read it four times and I am still not bored. I see new things every time and it still amazes me. I'm sure that I can still re-read it and still fell in love with it over and over again.
Is there a book series that you have not read because you're waiting the series to end?
I never wait for a series to end. I never understood this concept: if you forbid yourself to read a series to wait for the end, you are still waiting for the end – so why not read the books in between? (I'm also very impatient, so.)
Of which book's group of friends would you like to belong to?
There's so many amazing group of friends in literature that it makes me it so hard to choose. I guess I would have to stay away from all the very badass gangs, such as the Six of Crows or the Heroes of the Olympus – I would have trouble breathing after running for five minutes and would probably die. Though, if I had to be in a group of friends from a fantasy book, I would make my own in the Harry Potter world. I think I would love to hang out with Lily Evans and talk badly about James and his crew. I would love to be part of the new generation as well and be friends with James and Scorpius. Or even be friends with Ginny in the original generation and make our own gang!
But if I don't want to be too left out (and die from a jogging), I would love to be friends with Cath and Levi in Fangirl. We would hang out at Starbucks, talking about books and movies and tv shows and music – basically what I already do with my friends. It'll be the same if I hang out with the gang from Queens of Geek. I just need geeky friends, like I already do (but Hogwarts would be cool too).
ABOUT ME
What kind of music do you like?
My tastes in music seem weird to people, but oh well. I mostly listen to rock music, metal, classical music and musicals.
What/Who is your inspiration?
I tend to find inspiration in everything and everyone. Many of my friends are my inspiration for example, or just some random people I follow on Twitter of else. As for the celebrities and characters, I have many: Emma Watson, Lin-Manuel Miranda and Emma Carstairs are some of them.
Which languages do you speak?
I speak French and English fluently (I hope so), and know some Spanish.
Are you interested in history or philosophy?
Of course! Those were two of my favourite classes in high school and I miss it very much, especially the history one.
What do you love most about France and what places would you suggest to go?
I love France because, no matter what we keep saying, we are incredibly lucky to live here. School is free, medication too. There are problems, that's for sure, and nothing is perfect but we still have big privileges. Plus, I adore our culture, our history, our literature, our language – well, mostly everything.
As for the cities to visit, I haven't travelled a lot in France but I love le Mont Saint Michel in Britanny, Deauville and Honfleur, Calais can be nice too and Toulouse as well. I never been to Bordeaux nor Lyon but it seems to be incredible! I also love Angers and many cities with a castle, such as Chambord and Versailles. Of course, I recommend the island Corsica which is where my family is from, but Paris truly has my heart.
What is one country you've never been to that you would like to visit?
Right now, I'm thinking of Russia! I've always been attracted to it and I hope that someday I'll be able to visit it.
What is your favourite thing about autumn?
Many, many things.
I have never loved the heat (and am now even allergic to it somehow), even though my entire family comes from very hot countries. Autumn means the cold weather coming back, as well as the rain, which is then very important to me. Also, this kind of weather relaxes me a lot and allows me to be more productive, as I feel more at peace. Plus, all the colours are simply gorgeous and you can wear again sweaters, scarfs and all! I love clothes but it's hard to wear something nice during Summer, especially when you hate your body.
What are your tips for leaning other languages, to help separate them and become fluent?
Well, here's another blog post I could write!
I personally spoke English way better when I started to talk only in that language. I started to listen to radio in English, watched television and tv shows in English (first with French subtitles then English ones), read in English and mostly talked/wrote in English. That's why my account is in English; it allows me to practice all the time. That is also why I only speak in English on Twitter and on my Instagram account – you have no idea how much I improved since I started doing so a year ago.
ABOUT MY STUDIES AND JOB
Do you have a job at the moment? If yes, how do you keep your life organised/balanced to have the time to study, read, see your friends?
I do have a job! I think it's important for me to explain you all why I have a job while still being at uni. My master's degree is a professional one and we are studying "en alternance", which means that we have to alternate between our studies and our job. Our formation is then very complete, as we are studying in class but also in real life in real situations. With my university, we have to go to work every Monday, Tuesday and Wednesday and to school every Thursday and Friday. If we have vacations with university, we go to work. At our job, we are also treated like every employee: we have a pay check and we can take vacations. Going to our classes is part of our job, so we can't miss school, and we have to get good grades for it.
That being said, you already know a bit more about my job and studies! As for my organisation, I mostly read in the subway while going to work/uni and sometimes before bed. I also take at least an hour every night to either study (and I can take more than an hour if I need to) or read, write etc (truth be told, I don't study a lot but I still have great grades so it's okay). When it comes to my friends, I see some of them quickly during the week. My best friend come pick me up at work every Monday and we go pick up another friend at her university after that, another friend come to my lunch break every Wednesday as well. Then, I see them during the weekend if I feel like going out. They always come with me during my photoshoots, which I plan on Sundays usually, so it's another time we can spend together.
Basically, my whole life is on a planner and everything is planned months in advance but I'm also always doing multiple things at once. Thats's my secret.
What is it like working as a publisher/for a publishing company?
At first it was very intimidating, then I understood that I knew things and was good at my job so I stopped worrying too much. Right now, I love working in the publishing world and I feel as if I fit in. It sure is hard but also very rewarding. I adore knowing everything in advance and working on projects and everything.
What are you studying and to what school are you going?
I studied literature for three years at La Sorbonne before starting a master's degree in publishing and communication in Paris too. I'm at my last year and should graduate at the end of 2018.
Do you have any tips for people looking for an internship in a publishing house?
The only tip I have is to dare send your resume's everywhere and to sell yourself. Show what you can do, make them know, send tons of emails. Plus, use your blog/Instagram/YouTube to your advantage. There's no real tips, unfortunately, or we'd all have our dream job but dare to try.
Could you give specific examples of what you're asked to do at your job?
As an apprentice publisher, I handle the manuscripts department and also work with the two other publishers. I basically read manuscripts, decide if we should publish them or not, write a note for every one of them, send them back, answer the phone to talk with the authors, answer to emails etc. I also present some manuscripts to my superiors. When it comes to my work with the publisher, I correct the text and make sure after that that every corrections have been included. I also can help to write a blurb and all, correct it etc.
What do you plan to do in the future?
I want to work in a publishing house, that's for sure, but in the UK (or any other English speaking country, if I can't go to the UK) and at the communication department. Being a community manager would be my dream.
Do you have a routine for schoolwork or a certain way to keep it organised or motivate yourself to get it done?
As I said earlier, I study every week night at least one hour, depending on what I have to do (but as I also said, I'm not one who study a lot, we all have our own pace). I have a planner and all to be organised. (I used to be in the studyblr community and it helped a lot). As for the motivation, this gif actually inspires me a lot (which is very dumb but it works for me):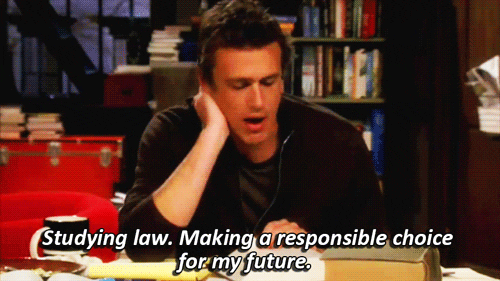 It made me realised how I can watch Netflix or read when I'll be done with everything and use this time to actually be productive and make the best out of it. Now's the time to proove that you can do it.
It's the very little things that keep you motivated, so print your favourite quote, play your studying playlist, watch a studying video… anything! as long as it keeps you going.
ABOUT MENTAL HEALTH
How do you deal with your mental health issues and/or anxiety when you are trying to read or have to work?
Reading is easy: it actually calms me down. It's work that is way more difficult to deal with. How many times have I had to run to the toilets because I was having a panic attack? How many times a situation made me cry and I had to hide it? How many morning did I have to convince myself to go to work in the morning and not let myself rots in my bed?
I think that doing something I love helps a lot, even though there was a time when I had problems there and it was even harder. What I try to do now is to have a quick solution to stop feeling the anxiety or else when it happens, so I can calm down a bit and wait to be home to deal with it properly: I can send a text to my friends, watch a small video of Tom Holland (which always works) or simply take a 5min break to walk in the corridors, get a coffee and stuff. It is hard, I admit it, but I will never let my mental health makes my superiors think I can't do the job right. It happened before and it broke me to see how little people thought of me because of it.
ABOUT INSTAGRAM
I think interaction is one of the most important thing on bookstagram, so how do you manage to mantain your interactions? I only have 2k and I'm already quite overwhelmed. I don't know how you can handle it. I guess what I'm trying to ask is, how do you keep up with conversations from your fellow bookstagrammers?
Comments are hard for me to answer. I am blessed to have many people answering to my posts and even though I wish I could take the time to answer to everyone, I never do. I do not have any excuses though, I'm just not good at it and my anxiety doesn't let me answering to people. Everytime I see that I have a comment I can feel my heart aches. It's as if people were waiting for me and I couldn't reach them.
So this is why messages are important to me, as I answer to all of them. Sometimes I receive a lot of them (as I said, people tend to answer to my posts and my stories quite a lot, which I feel very lucky about) but I always do my best to answer to everyone. It may take me a day or two when I have to think of a good answer but I never let a message unread or unanswered.
Now, if you're talking about creating and mantaining this link between you and the person, I highly recommend you to answer to people's stories (and posts, of course). I am so glad we have this feature as it allows us to know a bit more about the bookstagrammer and to be able to talk about it. Plus, as people upload their stories daily, you always have new things to say!
---
So… here it is! To you who read it all, well congrats, you now know a lot about me!
If you have any other questions, feel free to ask.
Pick some of the questions and answer them in the comments! I would love to know you all better!
Love always,
Clara